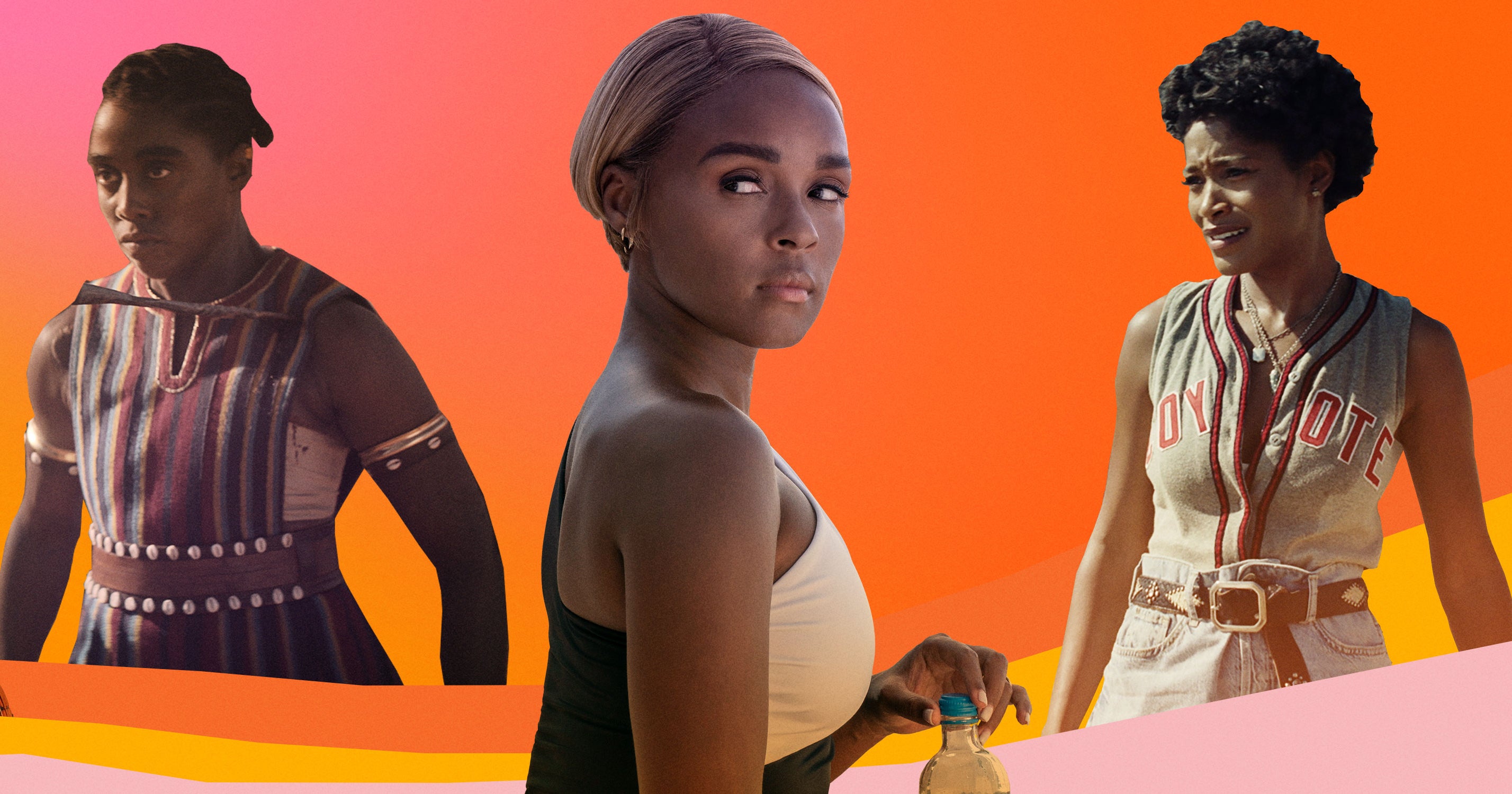 Welcome to "What's Good," a column where we break down what's soothing, distracting, or just plain good in the streaming world with a "rooting for everybody Black" energy.
What's Good? Black women. Always. Period. Forever. But in this case, Black women onscreen in film were especially good this year. Awards season is in full swing, which also means that year-end Best Performances Of 2022 lists are everywhere. On most of the lists by legacy (read: white) publications, you'll find the same (mostly white) names. Cate Blanchett for Tár. Margot Robbie for Babylon. Michelle Williams for The Fabelmans. Olivia Coleman for Empire Of Light. Michelle Yeoh for Everything Everywhere All At Once (she deserves!) is one of the few women of color exceptions this year as well as Viola Davis for The Woman King, and in some cases (the ones with taste), Danielle Deadwyler in Till. As good as all of these performances are, Davis and Deadwyler aren't the only Black women whose work is worthy of recognition this year. We've long since divested from the gatekeeping archaic institutions that continually exclude Black women from awards, but 'tis the season to look back on the best of the best of the year. And the best, as always, is Black as hell. 
Before we really get into it, let me just run through some of those powerhouse performances real quick. Along with Davis, Lashana Lynch and Thuso Mbedu in The Woman King. Yes, Deadwyler in Till, but also Deadwyler in From Scratch and Station Eleven (yes, she's a TV star too – get you an actor who can do both). Regina Hall in Honk For Jesus, Save Your Soul. Angela Bassett and Letitia Wright in Black Panther: Wakanda Forever. Janelle Monae in Knives Out: A Glass Onion Mystery. Anna Diop in Nanny. Kayije Kagame and Guslagie Malanda in Saint Omer. And, my personal fave of the year, Keke Palmer in Nope. Whether or not any of these women actually garner nominations for their efforts (Bassett and Davis look like the best bets) doesn't matter. We're giving them their flowers right now. 
Who It's Good For: All of the aforementioned performances are wildly different. When we talk about diversity on film and TV, we don't just mean Black faces onscreen in the same stereotypical roles we've seen in the past. We mean looking at the film landscape and seeing Black women playing warriors (Davis, Mbedu and Lynch), an ambitious pastor's wife (Hall), a stylish murder suspect with a secret (Monae), a grieving queen (Bassett), and an overprotective little sister with a plan (Palmer) – the fact that no two roles are alike shouldn't be so rare but for Black women, it still is. And the variety of roles Black women got to play — and absolutely slay (I'm sorry, I had to) — in 2022 means that there was someone and something for everyone. We say it so often it's become cliche, but I'll say it anyway: Blackness is not a monolith. Black actors deserve the opportunity to play the breadth of humanity and have the same opportunities as their white counterparts to be chameleons and hone their crafts through challenging, vulnerable, deep, emotional roles – the roles that are typically called "Oscar bait" and are usually reserved for white actors who starve themselves, or wear fat suits, or straight actors playing gay or trans, or those use being "method" as an excuse to terrorize their co-stars. You don't immediately think of Black women when you think of these roles, but you also don't think of Black audiences. 
The aforementioned movies aren't just small indies (The Woman King, Wakanda Forever, and Nope are certified blockbusters), but that doesn't mean they shouldn't be included in the end-of-year conversation. And the ones that are (Nanny, Saint Omer) deserve the same treatment as the other lower key films that get Oscar buzz. These movies and their standout performances are all very good individually, but together, they make a declaration about the state of film. Sure, there is a lot more work to do, but the talent is there. The calibre of performances are there. And under the vision and execution of Black directors (like Jordan Peele, Gina Prince-Bythewood and Nikyatu Jusu, just to name a few), they are able to thrive. Every year, you hear some version of "well, these were just the best performances" to justify excluding Black talent from awards or year-end lists. It's just another reason why seeking validation from white institutions is fruitless, and this year's roster of roles is just proof that Black women are killing the game, as they do. And maybe it's time we stop paying attention to who's not giving them their due, and focus on giving them the respect they've earned. 
How Good Is It? Let's start with Palmer — it's undoubtedly been her year. From hosting Saturday Night Live where she announced her pregnancy to launching a new digital network called KeyTV, Palmer delivered viral moments that kept us laughing, entertained, and proud of our bestie in our head. In Nope, she was so good she had me from her opening scene. As soon as Palmer shows up as Emerald Haywood, of the Hollywood horse training Haywoods, she's electric. Palmer's performance is the brash, chaotic counterpart to Academy Award winner Daniel Kaluuya's OJ Haywood's (the duo have the perfect sibling chemistry) subtle, withdrawn restraint. Palmer's hilarious commentary in suspenseful scenes makes her a stunning horror movie star and her emotional depth in the more grounded moments makes her a clear leading lady. She's been showing us her skill for decades and with Nope, Palmer is finally given a role that made the world wake up to what we've BEEN knew: baby, that's Keke Palmer. 
Danielle Deadwyler is another inimitable talent that makes me want to scream "I told you so!" In January of this year, I wrote about the precision of her performance in Station Eleven. In Till, she had the seemingly impossible task of telling the heart wrenching story of Emmett Till's mother, Mamie Till-Mobley, and Deadwyler approached it with the same care and intention she brings to all her roles. Mamie Till-Mobley's 14-year son was brutally murdered by white supremacists in 1955, and decades later, she is most remembered as the one who pushed for an open casket in order to spread awareness about the unconscionable racial violence sweeping the south. Grief is Till's undercurrent, flowing freely through every line and every excruciating detail. But the film doesn't just revel in pain; it memorializes a mother and son. Deadwyler's performance is stirring – she's teetering on the brink of giving into her grief throughout, eyes teary and rage simmering. It's a gripping, devastating performance that will stay with you long after the credits roll. 
Hall, Lynch, and Monae are all technically in supporting roles but each steal their respective films. Hall does so by injecting Trinitie Child, first lady of an Atlanta megachurch, with uncanny recognition (if you grew up in the church, Hall's performance is eerily on point) and perfectly unhinged energy in Honk for Jesus. Save Your Soul. Lynch as The Woman King's Izogie, an Agojie warrior who takes down opponents by gouging their eyes out with her nails, brings equal parts comedic relief, sensitivity and strength. And Monae — well, I can't say much without spoilers, but in a film stacked with A-list celebrities, it's easily her movie. The spark Monae brings to the camera saves the second Knives Out  from falling short of its celebrated predecessor. With her performance, it's even better. Those are just some of my faves, but I could go on and on and on. Black women raised the bar this year, as they've continually done in the past — but in 2022, we're not letting the year end without throwing bouquets at their brilliance. 
What Else Is Good?
•   Riches on Prime Video. As my good sis Ineye Komonibo wrote, it's the "blackity-Black show the diaspora has been waiting for."
• Janine and Gregory almost kissing in the snow on Abbott Elementary before they went on holiday break. A scene most pleasing to me and my interests!
•  Making fun of nepo babies.
•  Corny Black Christmas movies that make us smile, swoon and remember what the true reason for the season is: to become one with your couch, turn your brain off and watch two people fall in love! At Christmas!
•  Although it's been said, many times, many ways, defunding the police.
Like what you see? How about some more R29 goodness, right here?
Sanaa Lathan Is A Director Now & Her Debut Is Good
Black Abortion Stories We Need More Of Onscreen
Black Girls Win "The Sex Lives Of College Girls"